Sports betting opens up a huge ad opportunity for creative publishers
Sports is big business. Sports betting might be even bigger.
Nearly 2/3 of states now allow betting on everything from NFL games to NASCAR races to Major League Fishing tournaments. The removal of a federal ban on sports wagering in 2018 opened the floodgates. As states continue to legalize online and mobile betting for their citizens, ad money is pouring in to publishers from sportsbooks hoping to reach their valuable audiences.
At Clipcentric, we're already supporting some of our top clients with a variety of creative data-driven ad executions perfect for this new world of wagering. By using data feeds from sportsbooks, ad units can feature particular real-time odds, showcase a relevant sporting event (based on either the page being viewed or the location of the ad viewer), and highlight leaderboards or payouts.
These types of ads also lend themselves to tons of interactive features — sliders that change the amount wagered, a "pick the winner" type of poll, and more.
Real-time wagering odds
We worked with a longtime client that runs a major professional sports league to build sports wagering ads for its advertiser that included an interactive element where viewers could click to select the player they expected to win an upcoming tournament. A data feed provided the list of participating players and current odds:

Flexible, interactive data-driven wagering unit
Sports wagering ads can also use data-driven features to dynamically adjust content within the ad container based on the ad viewer. In this example from our partner at a major national sports website, the "featured game" changes based on viewer location — a San Francisco-based ad viewer might see odds for the Warriors game, while viewers in Cleveland would see odds for the Cavs. 
What's more — the ad can not only change dynamically based on geography to display different teams, it can also change what sport or league is highlighted based on the on-page content. A hockey article page viewed by a user in Alberta would show a betting ad for an NHL game featuring the Calgary Flames, while a basketball page could show an NBA ad or a football page an NFL game.
This unit is responsive and flexible across several different ad slots and sizes. It runs in a sidebar on score/schedule pages, in-content on article pages, and as a horizontal unit as a feature atop certain pages. The ad is styled to mirror the look and feel of the rest of the site.
A data feed from the sportsbook populates odds for the featured game real-time, and interactive features like a slider let the ad viewer adjust the bet to see what a payout could be if their team wins. (Click the image for a live preview version of the ad.)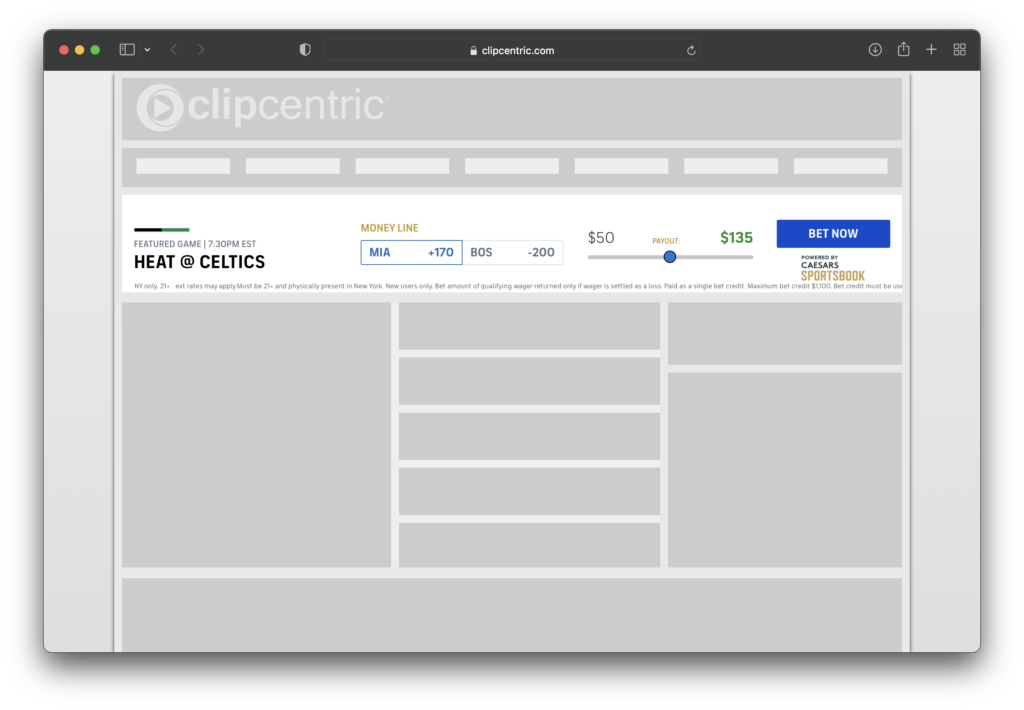 Here's how the same ad is positioned in other slots, including the side-bar and mobile content: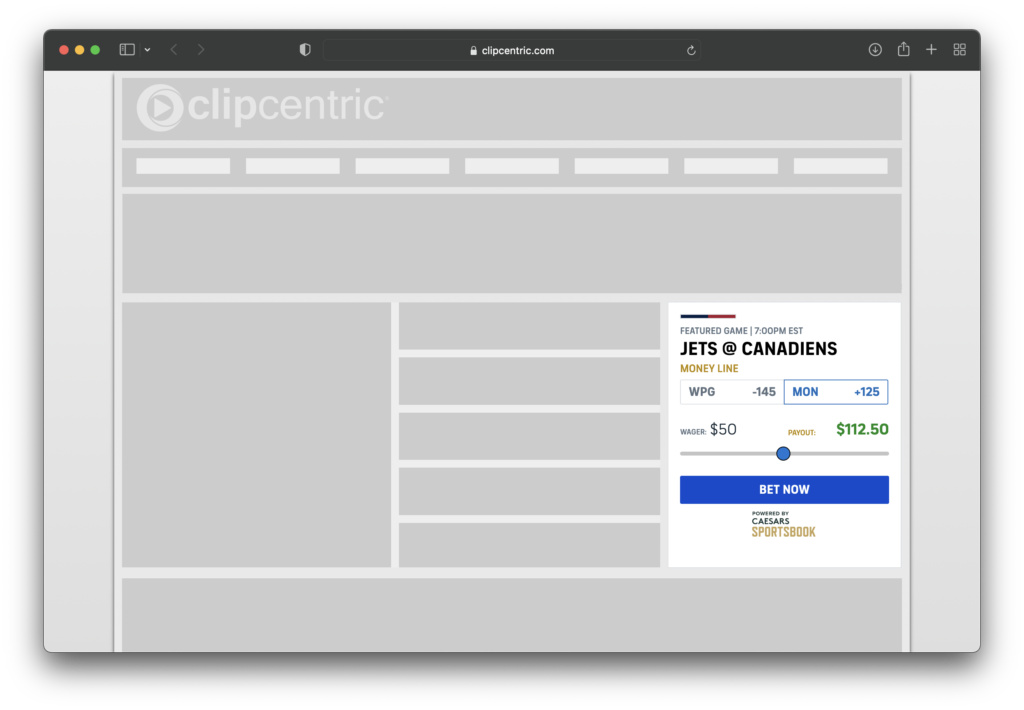 More than $100 billion has been wagered since 2018. As sportsbooks attempt to reach audiences and fight for dominance, publishers that can offer creative, engaging ad units that make use of data feeds and audience characteristics stand to become preferred partners.
Talk with our team at Clipcentric to explore how easy it is to create data-driven interactive ads (whether for online betting or anything else!).